Dr Duke & Dr Slattery – Real Job Loss is well over the 30 million announced & actually is 25% of workforce AND Growing – A Ziogarchy Induced Apocalypse!
Today Dr. Duke and Dr. Slattery talked about the long-term implications of the coronapocalypse. Will anti-whites finally abandon the founders and their accomplishments as fundamentally corrupt white supremacists and use this as an opportunity to overthrow the American republic and its constitution and create a new zio-multicultural Jewish dictatorship? Plus Treasury Secretary (((Steve Mnuchin))) has to admit that unemployment is about 25%. 
(Also, please check out the Knut Wittkowski video at the bottom of this page.)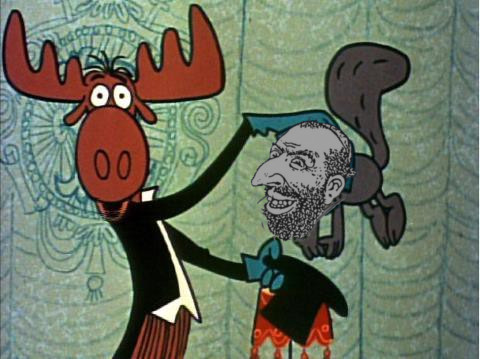 Hey Rocky, watch me pull a white person out of a hat.
The correct approach was and still is to isolate, protect, and support vulnerable people (the elderly and those with certain underlying conditions) so that they do not catch the virus while letting the rest of the population continue to work and develop heard immunity. This approach would not have lead to the disastrous and ultimately much more deadly economic fall out because most vulnerable people don't work anyway. Also, because the virus is much more contagious that originally thought, herd immunity could be achieved quickly. Masks, stimulus payments, and other resources would not need to be wasted on health people who should be working and could be concentrated on the the vulnerable population, who would only have to be isolated for a few months rather than 6-18 monthly, like the "flatten the curve" approach requires. Come on, people! Spread the word!
Jeffrey Epstein was a Mossad agent, Ghislaine Maxwell was his Mossad handler, and everyone in Washington is complicit in the usurpation of our government by Jewish power.
Please share this show widely. And please keep us on the air and on-line. Please visit our contribution page or send your contribution to:
P.O. Box 188, Mandeville, LA 70470
Thank you.
Click here and look for the show dated 5-11-20
Our show is aired live at 11 am replayed at ET 4pm Eastern