Commentary by Dr. Patrick Slattery — Although it has been months since the ceasefire that (more or less) halted Israel's maniacal bombardment of Gaza last summer, Gazans continue to die from the attack. As the article below from Israel's Ynet News makes clear, thousands of Gazan homes were destroyed or badly damaged, and repairs have been almost impossible due to the continuing Israeli blockade that prevents the importation of construction materials. As a result, the current bout of freezing weather and heavy rains has proven deadly for many Gazans, especially the children. -ps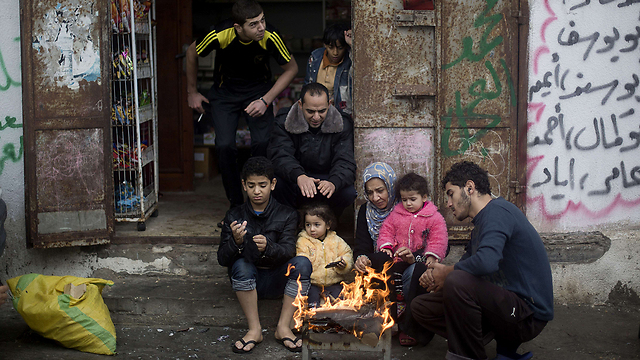 Heavy storm hits Gaza, region (Photo: AP)
Three Palestinian babies die in Gaza freeze
Cold front claims lives of 3 babies and a fisherman in Gaza; massive flooding reported in Gaza.
AFP, 01.10.15, 22:28
Four Palestinians, including three babies, have died due to cold weather in the Gaza Strip, an official said Saturday, as winter storms lashed the region.
A 2-month-old girl from the southern Gaza town of Rafah died Friday of "a pulmonary obstruction caused by the cold," Health Ministry spokesman Ashraf al-Qudra said. A 1-month-old boy from Khan Younis died Saturday, he said without giving further details.
On Saturday afternoon, another two-month-old baby girl was found dead in a refugee shelter in Beit Hanoun in northern Gaza. A relative of the baby said she turned blue from the cold by the time she was found.
Additionally, a 22-year-old fisherman was also found dead on Saturday. The head of the Gaza Fishermen's Union, Nizar Ayyash, told Palestinian news agency Ma'an the young fisherman died while working on the shore west of Khan Younis.
Gaza's civil defense service said that dozens of homes in the coastal territory, already ravaged by last year's war with Israel, were flooded in the brutal storms that brought freezing rain and gale-force winds.