Jewish Supremacist and top Obama advisor David Axelrod has claimed on national television that "most" Americans will be "able to stick with their existing healthcare plans"—at exactly the same time that millions have been told they will not be able to do so.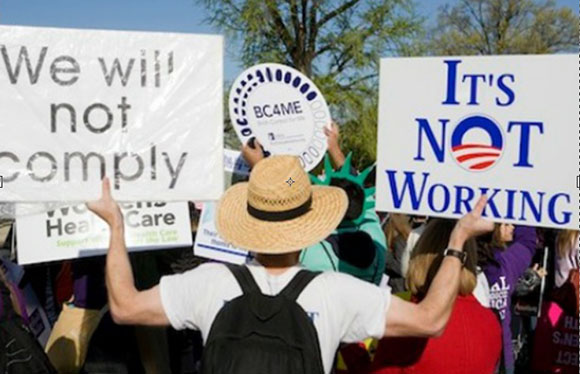 Speaking on MSNBC this past Monday, Axelrod, (who is the director of the Institute of Politics at the University of Chicago and served as campaign advisor and then Senior Advisor to Barack Obama until 2011, only quitting to take up the role of Senior Strategist for Obama's successful re-election campaign in 2012) said that "Most people are going to keep their own plan. The majority of people in this country — the vast majority of people in this country — are keeping their plan."
However, the National Center for Public Policy Research discovered that 1.5 million insurance cancellations have already gone out.
These cancellations are all due to the ObamaCare mandate that requires every health insurance policy meet a minimum requirement of a one-size-fits-all Cadillac plan that forces people to pay for coverage they neither want nor need.
The LA Times reported that middle-class Californians face, on average, a 30% rate increase "due to several factors ties to" ObamaCare.  That is just one state.
The L.A. Times continued: "These middle-class consumers are staring at hefty increases on their insurance bills as the overhaul remakes the healthcare market. Their rates are rising in large part to help offset the higher costs of covering sicker, poorer people who have been shut out of the system for years.
""This is when the actual sticker shock comes into play for people," said Gerald Kominski, director of the UCLA Center for Health Policy Research. "There are winners and losers under the Affordable Care Act."
Fullerton resident Jennifer Harris thought she had a great deal, paying $98 a month for an individual plan through Health Net Inc. She got a rude surprise this month when the company said it would cancel her policy at the end of this year. Her current plan does not conform with the new federal rules, which require more generous levels of coverage.
Now Harris, a self-employed lawyer, must shop for replacement insurance. The cheapest plan she has found will cost her $238 a month. She and her husband don't qualify for federal premium subsidies because they earn too much money, about $80,000 a year combined.
"It doesn't seem right to make the middle class pay so much more in order to give health insurance to everybody else," said Harris, who is three months pregnant. "This increase is simply not affordable."
The federal government picks up much of the tab through an expansion of Medicaid and subsidies to people earning up to four times the federal poverty level. That's up to $46,000 for an individual or $94,000 for a family of four.
But middle-income consumers face an estimated 30% rate increase, on average, in California due to several factors tied to the healthcare law.
Some may elect to go without coverage if they feel prices are too high. Penalties for opting out are very small initially. Defections could cause rates to skyrocket if a diverse mix of people don't sign up for health insurance.
Pam Kehaly, president of Anthem Blue Cross in California, said she received a recent letter from a young woman complaining about a 50% rate hike related to the healthcare law.
"She said, 'I was all for Obamacare until I found out I was paying for it,'" Kehaly said.
* Meanwhile, an investigation by NBC has revealed that the Obama administration knew all along that millions would not be able to keep their existing healthcare plans.
"Four sources deeply involved in the Affordable Care Act tell NBC NEWS that 50 to 75 percent of the 14 million consumers who buy their insurance individually can expect to receive a "cancellation" letter or the equivalent over the next year because their existing policies don't meet the standards mandated by the new health care law. One expert predicts that number could reach as high as 80 percent. And all say that many of those forced to buy pricier new policies will experience "sticker shock."
"Buried in Obamacare regulations from July 2010 is an estimate that because of normal turnover in the individual insurance market, "40 to 67 percent" of customers will not be able to keep their policy. And because many policies will have been changed since the key date, "the percentage of individual market policies losing grandfather status in a given year exceeds the 40 to 67 percent range."
"That means the administration knew that more than 40 to 67 percent of those in the individual market would not be able to keep their plans, even if they liked them.
"Yet President Obama, who had promised in 2009, "if you like your health plan, you will be able to keep your health plan," was still saying in 2012, "If [you] already have health insurance, you will keep your health insurance."