Jewish moguls exploit Super Bowl audience to push degeneracy, anti-white agenda
By Dr. Patrick Slattery — Another Super Bowl has come and gone. While the NFL has fewer Jewish owners than baseball and far fewer than the NBA, the Jewish flavor of the Super Bowl is as strong as Matzo Ball Soup. One could go into multi-million dollar, Jewish Madison Avenue commercials, chock full of vulgarity and anti-white stereotypes.
One that had been previewed in the Jewish Telegraphic Agency and reported by Zio-Watch featured "comedians" Seth Rogen and Amy Schumer, the dynamic duo of Jewish obscenity, posing as politicians crisscrossing the country recruiting the masses into their caucus. The repeatedly that they have a "huge caucus," with Schumer finally looking into the camera and saying don't worry, "you can handle it." (HollywoodLife.com says "It's that kind of lovable sexual-innuendo that earned Amy the MVP award at the Critics' Choice Awards." How delightful!)
But the most viewed half hour of the year, more than the game in fact, is the Half-time Show. Since 2010 it has been produced by Ricky Kirshner, the son of the Don Kirshner who produced so many major acts in the 1960s and 70s. Last year's show starred Katy Perry singing "I Kissed a Girl," a bubble-gum pop song encouraging her young white audience to experiment with homosexuality.
This year Kirshner brought on Lady Gaga to sing the national anthem. Lady Gaga's video's routinely feature pornographic themes such as nuns engaging in group sex. When she last appeared on Saturday Night Live, produced by the Jew Lorne Michaels, she engaged in vigorous mock sex on live TV with the black rapper R Kelly while groaning the song "You Can Do What You Want With My Body." So naturally Jewish media moguls see her as the perfect role model to put before America's largest audience singing a song that is supposed to symbolize America itself.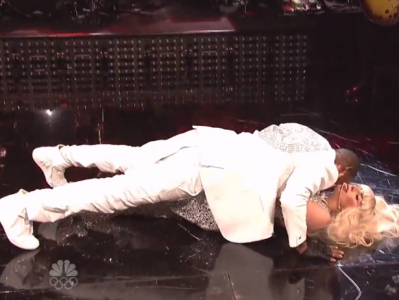 As for the half-time show, it starred Beyonce singing an obscenity-laced, Black Panther-themed song. The other stars to perform included Coldplay, Bruno Mars and Mark Ronson. Ronson is a Jew from England, and like Beyonce is signed by the Sony Music group, run by Doug Morris, who is Jewish. Bruno Mars is part Jewish, and like Coldplay is signed by the Warner Music Group of Edgar Bronfman, Jr., another Jew.
Kirshner's company is actually a subsidiary of Interscope Geffen A&M, owned by the gay Jewish media mogul David Geffen. Geffen was an early financial backer of Barack Obama. He also poured millions into an unsuccessful campaign to block California's Proposition 8 ballot initiative, which banned gay marriage in the state.
That the music industry in general and most watch show in particular are run by Jews and promote values that undermine the traditional morality of the majority of this country underscore the fact that the United States has come under the control of a Jewish elite that is hostile to the white population in this country and hell-bent on its cultural and demographic destruction.