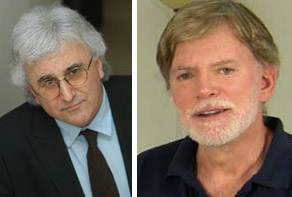 Now available on the Rense Radio Network archive: hear Dr. David Duke interview Paul Eisen, a Jew who powerfully confronts the huge dangers of Jewish extremism to the world.
In an incredibly insightful and thoughtful presentation he gives a riveting narrative of the hypocrisies of Jewish extremism and Zionism as simply one of the many expressions of it.
He shows that even many of the leading so-called ant-Zionist Jews are actually Jewish tribalists who support many of the most horrific aspects of Zionism and cover up the real dangers of Israel and Jewish global influence
Paul Eisen is a courageous Jew struggling to come to terms with the enormous implications of being Jewish, an exceedingly brave and honest individual conflicted, yet pursuing truth where ever it leads!
Today's show is an incredible broadcast that can't help but make a powerful impact on every listener. Share this show with your loved ones and with the world!
Click here and look for the show dated  05-30-14.
Our show is aired live at 11 am replayed at ET 4pm Eastern and 4am Eastern time.
You can also hear the live stream by calling 712-4327855 on your cell phone (US) or Skype (US and international). Click here for details.