Dr Duke & Mark Collett of UK Honor the True Patriot of all Europeans & Freedom Lovers on Earth: Julian Assange! #Jewd'état
Download
Today Dr. Duke and Mark Collett discussed the disgusting turn of events whereby the Trump administration is seeking the extradition of Julian Assange for the crime of exposing the crimes of the United States government. The Jew d'état has overthrown President Trump, who has become largely a figurehead whipping boy to be bullied by the ascendant establishment. Sad!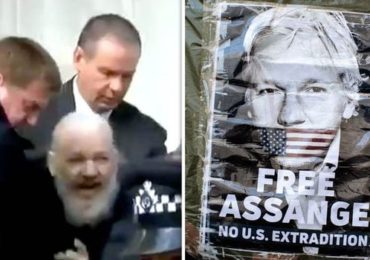 Listen to the show for the full story.
Please share this show widely. And please keep us on the air and on-line. Please visit our contribution page or send your contribution to:
P.O. Box 188, Mandeville, LA 70470
Thank you.
Click here and look for the show dated 4-12-19.
Our show is aired live at 11 am replayed at ET 4pm Eastern
Check out this Duke video on the white genocide in South Africa:
Here is Mark Collett's recent viral video:
Be sure to check out Mark's Twitter feed. And follow him while you're at it.