Dr Duke & Mark Collett of UK on Controlled Opposition in the Worldwide White Rights Movement!
Download
Today Dr. Duke and British nationalist leader Mark Collett talked about the heavy Jewish financial backing of Tommy Robinson, and placed it in the context of controlled opposition. While Jews in the U..K., like in America, are the driving force behind massive immigration, they still will back anti-immigration figures like Tommy Robinson because he will never call out the leading Jewish role in immigration and rather with take pro-Israel, pro-Zionist stances and act as if Jews are the real VICTIMS of immigration because those Muslims are so damned anti-Semitic.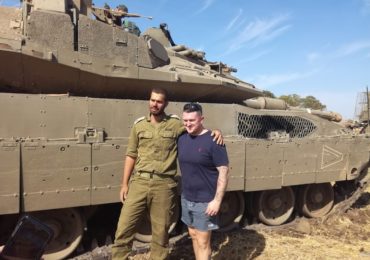 Tommy Robinson posing with an Israeli soldier next to an Israeli tank. 
Listen to the show for the full story.
Please share this show widely. And please keep us on the air and on-line. Please visit our contribution page or send your contribution to:
P.O. Box 188, Mandeville, LA 70470
Thank you.
Click here and look for the show dated 3-15-19.
Our show is aired live at 11 am replayed at ET 4pm Eastern
Check out last night's Public Space live stream with Dr. Duke and Jean-Francois Gariepy:
Here is Mark Collett's recent viral video:
Be sure to check out Mark's Twitter feed. And follow him while you're at it.