Download
Today Dr. Duke had British author and activist Mark Collett as his guest for the hour. First, Dr. Duke reported on events in New Orleans regarding efforts to protect the remaining monuments to southern heritage. Louisiana has become a focal point of activities recently, with the legislature feuding over legislation to protect the monuments as well as unrest surrounding the decision not to prosecute two policemen who shot an armed convicted felon who was resisting arrest.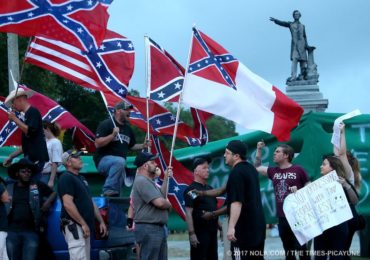 They also talked about the situation in which Donald Trump was elected in no small part thanks to campaign ads critical of Goldman Sachs and the Federal Reserve, and now presides over an administration full of Goldman Sachs executives and is considering renominating Janet Yellen as Fed Chairwoman. Not only that, but First Son-in-law Jared Kushner has massive financial ties with Goldman Sachs and George Soros that he had not previously disclosed.
This is the kind of fascinating show you have come to expect. Please share it widely.
Please send a contribution to keep us on the air.
Click here and look for the show dated 5-5-17.
Our show is aired live at 11 am replayed at ET 4pm Eastern and 4am Eastern.