Dr Duke & Mark Collett on Ingraham retweet of Mark's video & Google Lawsuit against Google Proving Zio Hate & Discrimination Against Whites!
Today Dr. Duke had British author and activist Mark Collett as his guest for the hour. Mark Collett has featured prominently in the current news cycle thanks to Fox News host Laura Ingraham having retweeted one of Mark Collett's tweets about Paris.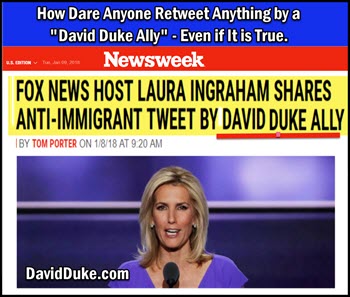 They then went on to discuss the situation at Google, which last year fired a white male employee who circulated a memo critical of the company's diversity obsession. He is now suing Google over racial and gender discrimination.
This show is a powerful show. Please share it widely. And the David Duke show has done more to make it possible for us to even say "Merry Christmas" than any other show. So please keep us on the air and on-line. Please visit our contribution page or send your contribution to:
P.O. Box 188, Mandeville, LA 70470
Thank you.
Click here and look for the show dated 1-9-18.
Our show is aired live at 11 am replayed at ET 4pm Eastern
Here is Mark Collett's latest video :
Be sure to check out Mark's Twitter feed. And follow him while you're at it.