Today Dr. Duke and British author Mark Collett (@MarkACollett) had a discussion about the retweet by former CIA agent Valerie Plame of an article by another former CIA intelligence officer Phillip Giraldi that convincingly made the case that the drive for Middle Eastern wars is coming from American Jews. Plame, who is best know for being outed as an undercover agent by Robert Novak during the Bush administration and subsequently becoming a cause celebre of the Democrats, had to apologize for her transgression after initially standing her ground.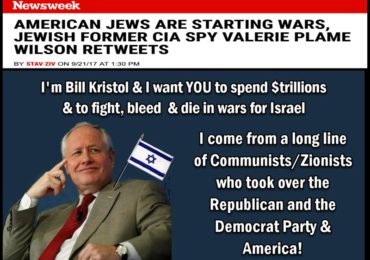 Mark Collett recounted the Jewish role in pushing the government of Tony Blair to rush into the Iraq War in 2003. He also told the story of when the late Tony Benn said that when he was minister of Technology a Jewish bureaucrat in his ministry sent plutonium to Israel without Benn's knowledge and over the objections of the Defence Ministry. Benn later said that he "had always suspected that civil servants were doing deals behind his back, but he never thought they would sell plutonium to Israel."
This is another lively show filled with information. Please share this show widely.
Please keep us on the air and on-line. Please visit our contribution page or send your contribution to:
P.O. Box 188, Mandeville, LA 70470
Thank you.
This is an entertaining and informative show that you will want to spread widely.
Click here and look for the show dated 9-22-17.
Our show is aired live at 11 am replayed at ET 4pm Eastern
This is a must watch video of David Duke's latest interview.
Here is Mark Collett's latest video: