Download
Today Dr. Duke and British author and activist Mark Collett talked about the massive violence that continues to be inflicted on the world by the Jewish dominated left. The assassination attempt against Representative Steve Scalise by a Bernie Sanders follower influenced by the hate group known as the Southern Poverty Law Center is just the latest example of this kind of violence.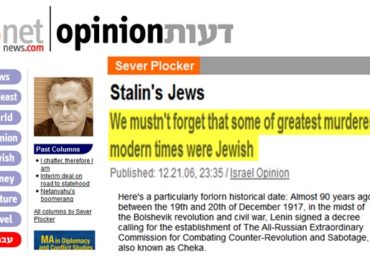 Actually, if there were an Olympics of genocide, the Judeo-Communists would win hands down, with Mao and Stalin taking Gold and Silver and any number of lesser despots vying for the Bronze. Although in fact, these communist rulers committed their crime as part of an overall movement organized, financed, inspired, and staffed by to a very large extent by Jewish tribalists.
This is a great show that you won't want to miss. Please share it widely.
Please send a contribution to keep us on the air.
Click here and look for the show dated 6-16-17.
Our show is aired live at 11 am replayed at ET 4pm Eastern and 4am Eastern.
Here is a video that really unveils the racist nature of Israeli society:
Note: This clip is a year old. This has been going on for a while. This clip is insane. They are openly talking about Israel as existing to "preserve the race."