Dr Duke & Hitchcock on Alex Jones Now Exposing Jewish Power! – Increasingly -The Goyim Know!
Download
Today Dr. Duke and Andy Hitchcock discussed a new video featuring Alex Jones talking into the camera about Jewish power. While he was not as direct as he needs to be, it seems to represent a new willingness to talk about Jewish power in truthful terms, rather than simply obfuscating it with references to vaguely defined "globalists." Mazal tov, Alex!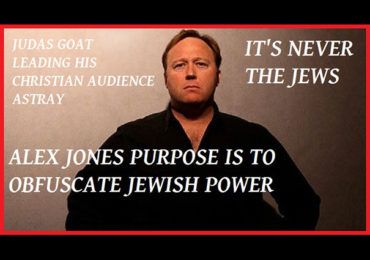 Maybe we can delete this meme now.
Please share it widely. And please keep us on the air and on-line. Please visit our contribution page or send your contribution to:
P.O. Box 188, Mandeville, LA 70470
Thank you.
Click here and look for the show dated 5-21-18.
Our show is aired live at 11 am replayed at ET 4pm Eastern
Hear Dr. Duke's Liftwaffe podcasts:
Here is Mark Collett's most recent video:
Be sure to check out Mark's Twitter feed. And follow him while you're at it.