Dr Duke & Dr Slattery on Why the Jewish Establishment Hates Donald Trump & How Their Effort to Destroy Him Exposes the Zio Rulers of Media and Politics!
Download
Today Dr. Duke and Dr. Slattery discussed the very Jewish nature of the opposition to Donald Trump. It is no wonder that the Zio-media is freaking out at the idea that infinite immigrants can not get permission to become citizens just by showing up at the borders. So they are trying to destroy Trump by hook or by crook. And for all his mistakes, he has exposed the Jewish nature of our dilemma more than any president you could hope for.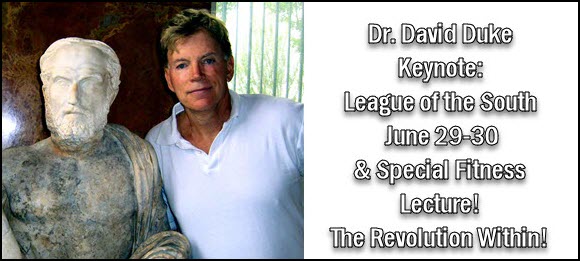 Dr. Duke will be back on The Public Space again tonight at 7pm Eastern time with Jean Francois Gariepy and Mark Collett.
For those of you interested in joining Dr. Duke at the League of the South conference, please click here.
Please share this show widely. And please keep us on the air and on-line. Please visit our contribution page or send your contribution to:
P.O. Box 188, Mandeville, LA 70470
Thank you.
Click here and look for the show dated 6-27-18.
Our show is aired live at 11 am replayed at ET 4pm Eastern
Check out this recent Duke video:
Here is Mark Collett's recent viral video:
Be sure to check out Mark's Twitter feed. And follow him while you're at it.