Commentary — While Ed Miliband will not become Britain's first Jewish Prime Minister since Benjamin Disraeli, it would be wrong to view the British election results as any kind of defeat for Jewish extremists. Britain's Jews lined up squarely behind proven sabbath goy David Cameron to continue as prime minister of the UK, which has become a Zionist satellite in very close orbit. Cameron himself may only be one-eighth Jewish, but it was from that Jewish great-grandfather that he derives his inherited wealth, and he no doubt understands the financial clout of the self-chosen people.
Meanwhile, George Galloway, the courageous critic of Israel from the fledgling Respect Party, lost his seat in parliament. Nigel Farage, the leader of the United Kingdom Independence Party, also failed in his bid to give UKIP a seat in Parliament. Farage has been a campaigner against massive immigration, but he timidly declined to use his considerable soapbox to draw attention to Jewish domination of British politics and media. 
(JTA) — Ed Miliband, the first Jewish leader of Britain's Labour Party, is resigning as British Prime Minister David Cameron definitively won reelection.
Cameron's Conservative Party had by midday Friday secured 331 of the 650 seats in the British Parliament, media reported. Cameron fell short of a majority in the last parliament and led a coalition with Liberal Democrats.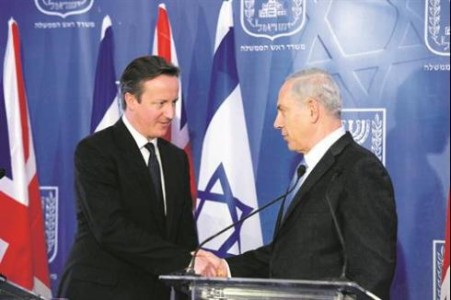 Miliband out as Conservatives win in BritainThe surprisingly strong showing scuttled Miliband's ambitions of becoming his country's first Jewish prime minister.
"I will never give up on fighting for the Britain that I believe in," he said at his party's headquarters on Friday, the BBC reported.
Benjamin Disraeli, one of the preeminent 19th-century British prime ministers, was born Jewish and was proud of his heritage, but also was converted to Anglicanism as a child.
Cameron and Miliband had appeared locked in a tight race, pre-election polling suggested. Labour was almost wiped out in Scotland, where the Scottish National Party resurged.
According to polls, British Jews strongly favored Cameron, in part because of Miliband's relative coolness on Israel and the Labour Party's shift to the left since the departure of Tony Blair, who led Britain in the 1990s and the first part of the 2000s.
Poor showings by the anti-immigrant U.K. Independence Party led its leader, Nigel Farage, to resign on Friday. Also resigning was David Clegg, the leader of the centrist Liberal Democrats.
Also defeated was George Galloway, the leader of the tiny Respect Party known for his strident anti-Israel rhetoric. He was soundly rousted from his seat in Bradford, in northern England by Labour Party candidate Naz Shah, 19,977 votes to Galloway's 8,557, according to AFP. Galloway last year had declared his district off-limits to Israelis, including tourists.