Another former senior case officer for the CIA's Directorate of Operations has joined a growing list of intelligence community officials to publicly identify the Jewish lobby as being behind the push for an American attack on Syria—while a new report has revealed that the Zio-controlled Obama-regime's "slam-dunk" evidence of Syrian government involvement in an infamous sarin gas attack was completely false.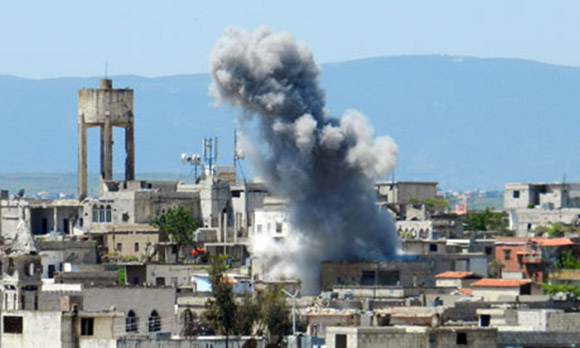 Writing in Iowa-based The Gazette newspaper, Dennis Lamb, a 30-year veteran case officer and intelligence analyst for the CIA, said that the "American public rose to save the day" to prevent an attack on Syria, but that " Washington was considering spending hundreds of millions of dollars firing missiles at Syria from miles away rather than on aid to refugees speaks volumes about the sincerity of its concern about Syrian civilian casualties and refugees — and raises questions about its objectives there."
He then went on to specifically list the people and organizations behind the US's "objectives" in this way:
"A Sept. 5 New York Times article titled 'Former Israeli official spills the beans on U.S./Israeli policy for Syria'  may answer that question: 'This is a playoff situation in which you need both teams to lose, but at least you don't want one to win — we'll settle for a tie,' said Alon Pinkas, a former Israeli consul general in New York. 'Let them both bleed, hemorrhage to death: that's the strategic thinking here.'
"The same article noted also that Israel's national security concerns have broad, bipartisan support in Washington, and that the American Israel Public Affairs Committee, the influential pro-Israel lobby in Washington, had weighed in Sept. 3, urging Congress to support our bombing Syria," the CIA analyst continued, adding that a "Sept. 9 article by Jodi Rudoren, the New York Times bureau chief in Jerusalem, cited AIPAC as planning to send 300 members to lobby Congress to do so."
Lamb has now joined a number of other senior intelligence agents who have come out to identify the Jewish lobby as being behind the war mongering over Syria. Earlier in October 2012, ex-CIA agent Michael Scheuer dared to identify the Jewish Lobby and tell a Congressional Inquiry that if it were up to him, he would "dump Israel" straightaway because it was completely against American interests to be allied to the Zionist state.
*Meanwhile, it has emerged that the major "slam-dunk" evidence claimed by the Zio-controlled Obama regime through its spokesman John Kerry-Kohn about alleged Syrian government involvement in a sarin gas attack in Damascus was completely false.
The "evidence"—a vector analysis of the trajectory paths of the rockets which allegedly carried the sarin gas to the target areas—allegedly showed that the rockets were fired from Syrian army bases.
The reports were carried in front page spreads in the major Zio-media outlets such as the New York Times—but now, even they have been forced to admit that the "analysis" was wrong.
It now turns out—as the New York Times has admitted—that the range of the rockets (three kilometers) was much too limited for the distance claimed (nine kilometers), that one of the two missiles involved had clipped a building during its descent making a precise calculation of its flight path impossible, and finally the "discovery" that a Moadamiya missile used in the vectoring analysis contained no Sarin, making its use nonsensical.