Dr. Duke looked today on the treasonous behavior of Congress, which is focused on promoting Jewish interests at the expense of the interests of the other 98% of Americans. The new Congressional task force on anti-Semitism denies that their could be any legitimate political differences with the Jews, and labels all opposition to Jewish power as based solely in hatred for Jews for being Jewish. Legislation is also being introduced to ban all government contractors from participating in any boycott of Israel, including severe penalties for those that are found to participate.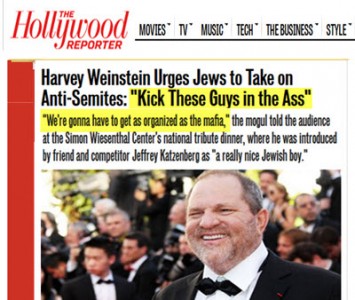 He then proceeds to have a discussion with Dr. Slattery on a Gala fund-raising event hosted by the "human rights organization" the Simon Wiesenthal Center to support their museum of "tolerance," featuring a fiery call by Hollywood torture porn producer Harvey Weinstein to kick Jewish enemies "in the ass." Dr. Slattery pointed out the ease with which organizations promoting Jewish interests can raise tens of millions of dollars in a single night and said that this explains why an organization like Amnesty International will release a ludicrous report accusing Gazans of war crimes for using homemade weapons in a vain attempt to fight off the onslaught by the Israeli War Machine.
This is a passionate and powerful show that you will want to make sure is part of everybody's weekend.
Click here and look for the show dated 3-27-15.
Our show is aired live at 11 am replayed at ET 4pm Eastern and 4am Eastern time.