Jewish Supremacist claims that their community does not have "dual loyalties" towards Israel and whatever their host nations might be, have been once again thoroughly disproved with a mass protest in New York by more than 50,000 Orthodox Jews—against military conscription in Israel.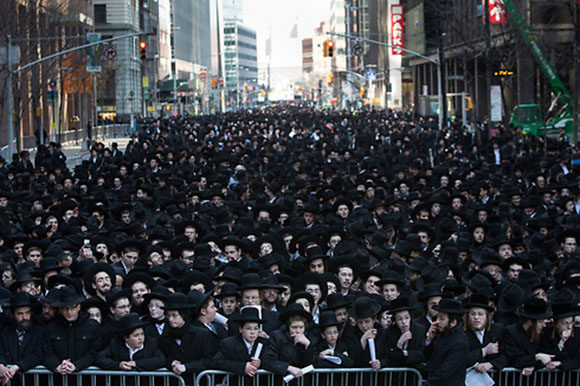 Why, any sane observer might ask, would the streets of New York be brought to a standstill by the internal policies of another nation—unless there was an immediate, real and direct link to that nation?
Why would conscription laws in Israel have any meaning for the orthodox Jewish population of New York—unless those laws directly affected them?
According to reports in the Jewish Telegraphic Agency and Israel's Ynet news, the mass demonstration in New York over the past weekend was over a "a proposed Israeli law that would draft more young haredi men into the military.
"The Sunday afternoon prayer rally in the Wall Street area of Lower Manhattan drew a crowd that police estimated at between 30,000 and 35,000 people. . . . Organizers put the number of participants at more than 50,000, the Associated Press reported.
"The rally stretched for blocks, with men and women gathered in separate areas.
"The prayer rally's logistics were organized by Agudath Israel of America, the leading haredi Orthodox umbrella group."
Significantly, the articles also revealed that in the previous week, "an estimated 300,000 haredi Jews protested in Jerusalem against the proposed draft law, which is backed by Israel's governing coalition."
"A protester in New York was quoted as follows:
We're all united against military service for religious men in Israel because it doesn't allow for religious learning," said Peggy Blier, an interior designer from Brooklyn. "The Israeli government is looking to destroy religious society and make the country into a secular melting pot."
The Ynet news article then explains the background to the demonstrations:
"The issue of army service is at the core of that struggle. Since Israel's founding in 1948, the ultra-Orthodox, who make up about 8 percent of Israel's 8 million citizens, largely have been allowed to avoid military service, compulsory for most Jewish men, to pursue their religious studies. Older men often don't work and collect welfare stipends while continuing to study full time.
The ultra-Orthodox insist their young men serve the nation through prayer and study, thus preserving Jewish learning and heritage.
But the exemption has enraged secular Israelis who say the ultra-Orthodox are not doing their fair share. The issue featured prominently in last year's election, which led to the establishment of a center-right government that has been pushing for reforms that will require ultra-Orthodox to serve in the army."
In other words, it is an exclusively Israeli internal political issue.
So why are tens of thousands of Orthodox Jews demonstrating in New York over an Israeli law?
They would only be concerned if the allegations of "dual loyalty"—or rather, "single loyalty"—were true after all.