Dr. Patrick Slattery's News Roundup
A service of DavidDuke.com
---
From Ynet News
Romania bans Holocaust denial, fascist symbols
President signs bill into law that could effect several organizations and symbols with a punishment of up to three years in jail.
Associated Press
Romania's president has signed into law legislation that punishes Holocaust denial and the promotion of the fascist Legionnaires' Movement with prison sentences of up to three years.
President Klaus Iohannis signed the amendments to existing legislation, approved by Parliament last month, on Wednesday.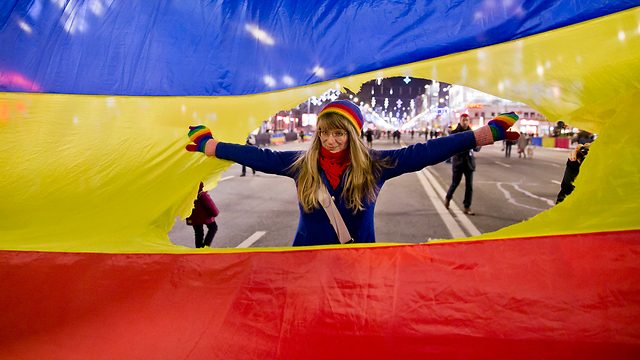 An anti-communist protest in Bucharest. (Photo: Archive/AP)
---
---
From the Independent
Iran nuclear deal: Satirical website The Onion accidentally breaks story about the US offering missiles to Israel
---
From The Independent
Ukraine crisis: 'Putin is obsessed with the idea of testing Nato' – and the Baltics will be next, says Odessa governor Mikheil Saakashvili
---
---
From the Jewish Telegraphic Agency
Thousands protest the Iran deal at Times Square rally
(JTA) — New York Sen. Chuck Schumer was not actually in New York on Wednesday, but the Democrat's influence on the fate of the Iran deal loomed large when several thousand people descended on Times Square to protest the agreement.
Many of those demonstrating against the agreement chanted "Where is Chuck Schumer?" and "Kill this deal." Some who packed the sidewalks along Seventh Avenue also held up signs that urged Schumer to convince Congress members to vote against the deal reached July 14 between Iran and six world powers to limit Iran's nuclear program in exchange for sanctions relief.
The most senior Jewish senator is in a tough position: The Iran deal forces him to straddle his allegiances to his political party and the large Jewish constituency he serves in New York. Schumer, who hopes to assume the party's leadership once Sen. Harry Reid, D-Nev., retires next year, is thought to have considerable power to influence other key Democratic lawmakers.

Click here for the full story
---
---
From the Jewish Telegraphic Agency
AIPAC fly-in launches major push against Iran nuclear deal
WASHINGTON (JTA) – Hundreds of pro-Israel activists from across the country will descend on Capitol Hill next week to press members of Congress to reject the nuclear deal with Iran.
The July 28-29 fly-in, which will bring to this city some of the most dedicated of the 100,000-strong membership of the American Israel Public Affairs Committee, is part of a multi-pronged effort by the pro-Israel lobby aimed at killing the agreement reached July 14 between Iran and the world powers. The campaign, according to top pro-Israel officials who briefed reporters on Wednesday, will also include TV ads by a new AIPAC-backed nonprofit dedicated to killing the deal, calls and emails by activists to their congressional representatives, and attendance at town hall meetings lawmakers are expected to convene during the August congressional recess.
Congress has two months to consider the deal, and the Republican leadership in the House of Representatives and Senate has indicated there will be a vote. If the lawmakers vote to disapprove, President Barack Obama has said he will veto their action. If congressional opponents can manage to muster the two-thirds majority in both chambers necessary to override a veto, it will kill the deal.
READ: The campaign for (and against) the Iran deal gets personal
Click here for the full story
---
---
From The Times of Israel
Stock fraud suspects appear in court as US seeks extradition
Two Israelis stand accused of pumping up penny stock prices in cyber-crimes that also saw top banks hacked
July 22, 2015, 2:32 pm
The Jerusalem Magistrate's Court on Wednesday extended the remand of two men the US wants to extradite over alleged involvement in a hacking and fraud scam that manipulated prices on the New York Stock Exchange.
Gery Shalon from Savyon and Zvi Orenstein from Bat Hefer were remanded in custody for a further 20 days while the extradition request is under review.
"These are serious crimes that were systematically carried out by an organized group of several criminals using advanced means," the prosecutor said, noting that according to emails seized by police some of the alleged activities were still ongoing.
If convicted in the US, the men could face up to 20 years in prison.
The FBI estimates the incident is one of the biggest cyber-crimes in recent years and involved operatives in Moscow, Tel Aviv and Florida.
Click here for the full story
---
---
From Ynet News
Israeli Cobras gifted to Jordan for 'border security'
US source says about 16 decommissioned attack helicopters given to Jordan last year to fend off potential attacks from ISIS. Israel has given retired US-supplied Cobra combat helicopters to Jordan to help the Hashemite kingdom fend off insurgent threats on the Syrian and Iraqi borders, a US official with knowledge of the deal said.
The handover, initiated last year, was approved by Washington, which provided mechanical overhauls for the aircraft before they were incorporated free of charge in Jordan's existing Cobra fleet, the official said.
Click here for the full story
---
---
From Ynet News
Israeli woman arrested in Thailand after bullets found in her bag
Woman was released from the IDF only 5 days before going on vacation with her family and forgot to remove the M-16 bullets from her bag. An Israeli in her 20s on her way to Thailand on vacation was arrested on Wednesday at the Bangkok Airport after security found 13 bullets for an M-16 rifle in her bag, forgotten there after she was released from the IDF only five days prior.
She was questioned at a police station in the airport, and on Thursday she is expected to be brought in front of a military judge. The young woman landed in Bangkok on a layover on her way to Chiang Mai when the bullets were discovered. It is unclear why the bullets were not discovered during the security check at Ben-Gurion Airport.
Click here for the full story
---
---
From The Times of Israel
Obama tries another push to close Guantanamo Bay prison
Stiff opposition in Congress to idea of moving 116 terrorist inmates to prisons on US soil
July 23, 2015, 3:55 am
WASHINGTON (AP) — The White House is close to bringing Congress another plan for closing the prison for terrorism detainees at Guantanamo Bay, Cuba, a campaign pledge that President Barack Obama hasn't given up on, his spokesman said Wednesday.
"There has got to be a better way for us to spend taxpayer dollars than to spend more than $100 million a year operating a prison that only has, I think now, 116 inmates," press secretary Josh Earnest said. "There also has to be a better way for us to protect our national security interests than to deliver on a silver platter a particularly effective recruiting tool for terrorists, which is to continue the operation of that prison."
Under a defense policy bill passed by the Senate, lawmakers would consider the White House plan and decide whether to ease restrictions that make it harder for Obama to transfer detainees out of the prison at the US naval base in an effort to close it.
The House version of the legislation doesn't contain that provision, however, and it may not survive when lawmakers finish negotiating a compromise version of the entire bill.
The White House has threatened a veto of the defense bill over several issues, including if it makes it harder to close the Guantanamo Bay prison. Congress has repeatedly stymied the president's plans to close the prison in the past, however, and Obama has backed down from similar veto threats.
Click here for the full story