Despite getting more than two million views on YouTube—and climbing—filmed evidence of an outrageous Zionist Supremacist war crime is being totally ignored by the biased Jewish Supremacist controlled  "western" media as part of their campaign to cover up their brethren's evil deeds.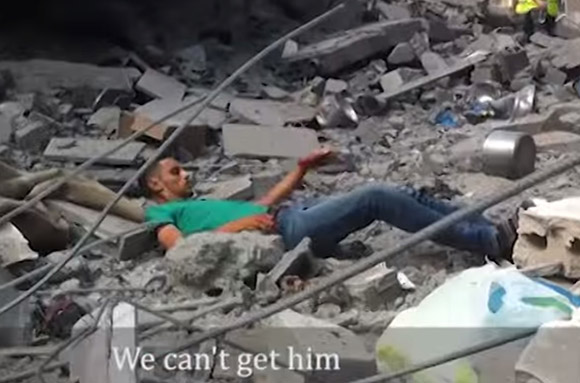 The video shows an unarmed Palestinian man, searching among the rubble of Gaza for his family, being mercilessly gunned down by Israeli snipers.
The man, identified as Salem Khalil Salem Shammaly, a 23-year-old resident of Shujaiyeh, had been trying to reach his home in an attempt to find family members, according to a report issued by VICE News.
"He couldn't reach any of them over the phone. The cellphone network has been down in the Shujaiyeh neighborhood since the invasion began. We haven't been able to reach anyone there," a witness, Joe Catron, said.
"We were in an area with rescue workers from the municipality. He knew we were with ISM and asked us to go along with him. We were pretty deep into Shujaiyeh, near the buffer zone. There was a clear column of sight from the buffer zone toward [Shammaly]. If anyone stepped into the sniper's line of sight, they risked getting hit. None of us could do anything to help him."
Rina Andolini, another ISM activist in the video, told VICE News, "No doubt if we tried to retrieve the body we would have been shot too. He was not moving when we left the scene."
The attack occurred as volunteers and rescue crews were attempting to uncover bodies during an announced ceasefire after a day of the most intense violence and destruction so far in the 14-day operation.
The activist organization International Solidarity Movement, which shot and uploaded the video online, described it in a statement:
"The Israeli military just shot a Gazan man trying to reach his family, during an announced ceasefire. He was with a group of municipality workers and international human rights defenders who were attempting to retrieve injured people in the Shujaiya neighborhood…. They shot him, and then continued to fire as he was on the ground. We had no choice but to retreat. We couldn't reach him due to the artillery fire and then he stopped moving."
Human rights organizations and international bodies have criticized Israel for the mounting civilian death toll since the military operation began in Gaza two weeks ago. Médecins Sans Frontières/Doctors Without Borders (MSF) said in a statement yesterday, "Since the beginning of Operation Protective Edge in the Gaza strip, the majority of the dead and wounded in Gaza are civilians, and medical workers are also coming under fire."
MSF also reported instances of the Israeli military shelling or shooting at paramedics and ambulances. The United Nations has documented that the vast majority of those killed in this onslaught have been civilians.